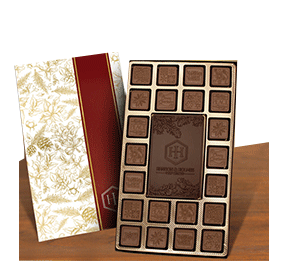 Sweet Chocolate Surprises 
The holidays are almost here, so let the good times begin! How can you ensure the holiday spirit flourishes while in a business setting? By giving your enterprising comrades sweet custom corporate Christmas gifts! What else brings the jolly and merry better than distributing delicious Belgian chocolate with custom flare? Visit our website to see our full catalog today.
Christmas Gifts Corporate Style
How do you separate business from pleasure during the holiday season? You don't always have to. Instead, you combine the two! When seeking ways to connect and bring a smile to employees' faces, it helps to do a little brainstorming. Thoughtful corporate Christmas gifts are:
Fun and refined
Memorable but understated
Logo-loving and purposeful
Custom and cost-effective
To please tastebuds and company loyal associates, a charming smile and a tasteful gift can go a long way to ease the tension holidays often bring and inspire others to spread the love as well. And nothing says fun or memorable like a piece of decadent chocolate! 
Branded for Success
Bring the holiday cheer with corporate Christmas gifts that taste delectable and look refined by design. When seeking quality gift ideas for your hardworking counterparts, packaging matters. You can celebrate your loyalty to your company's logo and your need to fill co-workers' stockings and stomachs with scrumptious offerings by finding gifts that:
Allow you to customize the packaging.
Offer a variety of ways to custom-design the gift inside the packaging.
Give you opportunities to show your appreciation through word and taste.
Require no explanation because the gift you select does the talking for you!
Corporate Christmas gifts don't have to be over-the-top, complicated, or add even more to your busy schedule. Instead, they can be simple yet complex in design and taste. Amid choruses of "Let it Snow" and "I'm Dreaming of a White Christmas," nothing else quite warms the heart like a healthy dollop of chocolate in the middle of it all! 
Variety is The Spice of Life!
Every co-worker has their personal taste, the unique flavour they bring to the business. With corporate Christmas gifts that cater to an atmosphere of unity, Belgian chocolate assortments provide a tasty morsel for every individual! And with a company logo adorning the packaging and the chocolate itself, you can have your unifying moment and diverse favourite flavours at your fingertips. It's the perfect way to encourage more tasteful interactions!
Bulk Buys, Individualized or Both?
How you invest your finances is pivotal to the health and longevity of your business. In the corporate world, quality investments mean big business success! Corporate Christmas gifts that are cost-efficient bulk buys with personal touches are (by design) a low-risk investment with high returns.  Customized desserts that are easy to purchase, customize and distribute can bring the "wow" factor to any Calgary Corporate Christmas party!
Candied Catering to Corporate Christmas Gifts 
What do the holidays bring to your mind? Decadent smells, friendly chatter, family gatherings, fun parties? If so, you'll love what chocolate corporate Christmas gifts will add to your holidays this season! Are you seeking gift ideas to wow your employees and co-workers alike this Christmas? Nothing says gratitude like catering to the sweet tooth of your corporate counterparts! Want to find out how to deliver the goodies to the business gurus in your life? Contact Alberta Printing Co. Ltd today to get in on the sugar rush before the holiday shopping rush begins!