Booklet Printing Services Calgary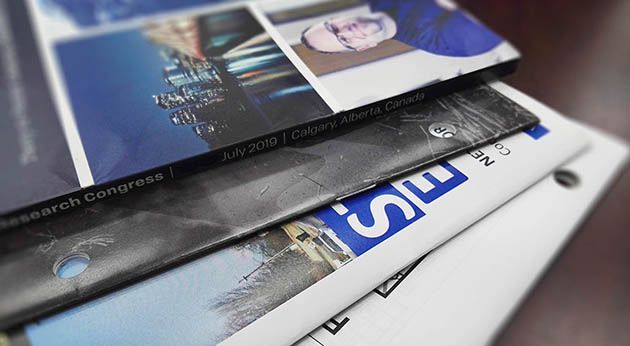 Booklets are an important tool for information and marketing purposes. They usually come in a volume of 4 to 48 pages.
Purpose for this kind of printing product can cover a wide range: inform a client about current products and services available; serve as a user manual; provide technical, graphic or legal reference, showcase, advertise and promote projects and services your company or business offers; guide the end-user through setup and installation process; convey detailed information about particular product; update your colleagues and clients on what's the important in the company or industry.
We specialize in printing all kinds of custom booklets:
User Manuals.
Feature Sheets.
Catalogs.
Annual or Quarterly Printed Reports.
Newsletters.
Reference Guides.
Instruction Guides.
Portfolio.
Recipe Cookbooks.
Employee Handbooks.
Student Handbooks.
Corporate Policies and Regulations.
At Alberta Printing in Calgary we offer wide selection of finishing and bindery options for your custom booklet project. No matter the intended purpose of your booklet - education, commercial, internal, reference, we will provide high-quality printing on the best paper stock for the project. Don't hesitate to contact us for all your booklet printing and design needs.
Before printing, you need to ensure the finished product will match the purpose. All parameters such as trim size, bindery options, paper stock and finishing are important to consider.
If you are looking for an eye-catching product to help with your advertising goals, the overall look and finish is a priority. If you need an instruction manual, focus on presenting the information in a consistent and illustrative format; you can make it more cost-effective with different paper stock and print options, since the content is what matters most.
At Alberta Printing Co., we are well equipped to help you with your project right here in Calgary.
You can choose from various options, starting with paper stock - coated, uncoated or textured and specialty paper; printing process - offset or digital to meet your specific target; coil binding, saddle-stitch, perfect binding; hole-punch, folding, scoring & trimming - we got your needs covered.
Call Alberta Printing Services in Calgary to estimate print cost of your custom booklets, or for help with the pre-press design services.