45 Piece Chocolate Assortment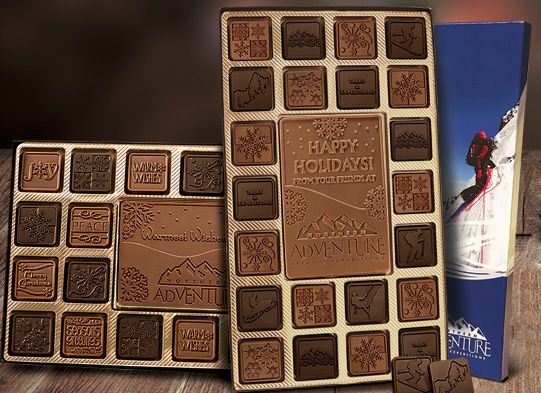 Who framed your custom logo? We did… with 44 delicious Belgian milk and dark chocolate squares stacked in two layers. Your personalized chocolate 4" x 6" centerpiece is surrounded by Holiday or Thank You motif outer squares. More customized chocolate is available by adding your logo on the outer squares. Both horizontal or vertical arrangements are available so pick the one that works best with your logo. Box size: 14" x 8-1/8" x 1" 
Approx. net wt.: 16 oz. 
PACKAGING OPTIONS:
Complimentary Packaging - Includes full-color, custom imprinted bands!
Custom Printed Lids - Your custom design in full-color!
DESIGN IDEAS: 
Want custom but need help with ideas? Choose from the large assortment of predesigned bars, lids and gift bands below and we'll drop your name in for you! 
---